About Creatiive Life Coaching
CreatiiveLife Coaching is a powerful system of transformation — allowing you to live your extraordinary life on your terms. It activates your ability to create your own life experiences — your emotional states, your mental thought patterns, your habitual actions — and your psychology — the way you view yourself, others, and the world around you. We all have the agency to transform destructive ways of being and live an extraordinary and fulfilling life.
I use success strategies taught by Tony Robbins and the technologies of Neuroencoding — where I help you decode old thought patterns and develop new neural pathways. As well as being rooted in Neuroscience, CreatiiveLife Coaching is heart-centred: no part of us is rejected — we fully embrace ourselves, because only by being whole can we fully become. Otherwise, we can lose contact with aspects of ourselves — deemed unworthy — we start to believe we are who we are not,  and, flipping from persona to persona, we cannot muster the resources we need to live a fulfilling life. This can be frustrating, it can hold us back, we can feel out of control, it can lead to inner conflict, procrastination, imposter syndrome, self-loathing, fear of rejection, and it can lead to burnout. As over 90% of our brain activity is unconscious, I also use creative techniques — such as storytelling — to help us access the unconscious scripts we are running in a powerful, yet protective way.  I have trained in energy coaching and, where appropriate, I use techniques such as guided meditation to transmute energy blockages, shifting from a state of stagnation to flow.
I discovered lasting change requires a 360° approach. We can't simply build a prosperity mindset on top of a deep-seated belief that 'I'm not worthy' — even if we succeed we will most likely sabotage our efforts. Can you relate? I've been there! I work with your sense of identity, your behaviours, your human needs, emotions, mindsets, the environments you create for yourself as well as the underlying psychological framework underpinning it all — so you achieve your desired life transformation.  When this happens, you attain sovereignty, standing in the centre of your own circle, you can co-create your way of being, your state of mind, your way of relating to others — balanced, harmonious, empowered, vibrant, or not, as you choose! You design your destiny going forward.
This is a process of self-evolution, rather than merely self-development, as we are connecting with our deep creative resources to bring forth who you already are — your authentic self, your deeper desires, your genius talents, and your unique contribution. And we are always evolving, integrating new learnings as we grow, mostly able to stay in our centre.
If you feel a sense that there is something more, if you feel a deeper calling, a deeper sense of purpose — this transformational coaching is for you. It's great for visionaries, thought leaders, creatives who wish to connect with their deeper creative resources, and it's great for women, for many of whom the traditional goal-setting approach alone is insufficient. Our philosophy is wholeness  — accessing and employing both linear and creative processes.
I also help you present yourself and your great work to the world with authentic confidence, as we go all the way from conception to implementation.  I am certified in Neuroencoding techniques for presentation, and in my earlier career as a TV Newsreader and Reporter, I presented live to tens of millions of people around the world. At that time, I was coached by Princess Diana's personal Speaking Coach.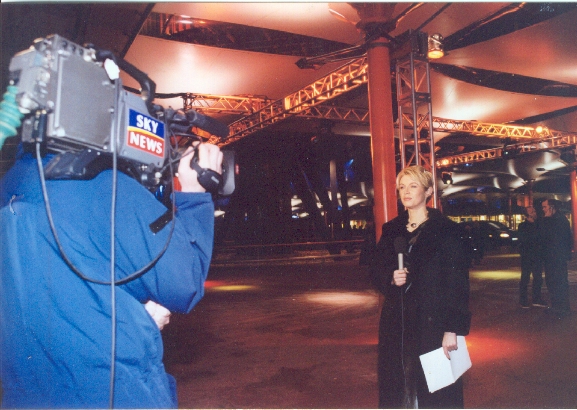 My love of people has been my consistent motivation. As a journalist, I had the highly privileged opportunity to interview tens of thousands of people from all walks of life — including the Dalai Lama, Nelson Mandela, Royalty, Prime Ministers, Rock Stars as well as homeless people, people who'd become addicted, people who'd committed crimes and acts of terror, and people who'd experienced enormous trauma. I saw people's brilliance — and I saw their suffering. My quest to understand the human condition deepened and became my life's passion. At the time, I wasn't fully aware of the nature or extent of my own personal suffering and it took deep inquiry and extensive training to put together this programme — to empower me to empower you — so you can go deeper, higher, further, faster and make your greatest impact.